---
Home - General Information - Programs - Classes - Quilt Show - Membership - Library - Links
---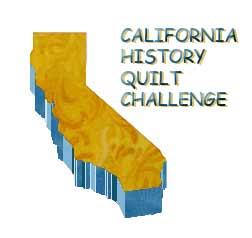 Pictures from
The Flying Geese Quilter's Guild
2014 Challenge

Some of 2014 California History Quilt Challenge Entries

Darla's

Discover the Historic Sierras

Sandy's

Californias Agriculture - A Cornucopia of Opportunity

Helen's

When You wish Upon a Star

Debbie V's

California Missions

Mickey B's

State Fossil of California
Sabertooth Cat (meow!)

Diane's

California Dreamin

Char's

Modern Monarch Butterfly

Chris'

California 1834

Michelle's

First Female Park Ranger

Janette's

Bird on the Brink

If you would like to have a picture of your 2014 FGQG challenge quilt on this page please send a photo of it to the web designer. See the directory for mailing information.